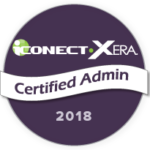 iCONECT participated in the 2018 TRU Staffing Partners Scholarship program, awarding four scholarships. The recipients begin their certification training this month.
Adam Stemkovsky and Jay Kuperstein will be attending the iCONECT-XERA Web Administrator Certification course, which teaches and tests project management skills within the iCONECT-XERA eDiscovery review platform. Andres Crosetto and Mujahidul Haque will take the more advanced, iCONECT-XERA Administrator Certification course.
Each recipient had his own reasons for applying for the iCONECT scholarship:

"I used iCONECT-XERA at a previous job with a plaintiffs' firm. A couple of jobs later, I am moving to a different plaintiffs' firm. I want to be able to educate other attorneys on the benefits of using technology for their cases," shared Alex Stemkovsky, an attorney at the DOJ.

Senior Discovery Analyst at the FAA, Jay Kuperstein, said that he is part of a two person eDiscovery department and that people in the IT department are most familiar with their iCONECT-XERA software. "I don't want to have to turn to IT. I want to be more familiar with the software as the need arises," he said.

Mujahidul Haque has been a iCONECT-XERA Certified Administrator in the past, and while his current employer isn't using the software, he likes it and wants to keep current.

Andres Crosetto also used iCONECT-XERA at a former employer. "I always knew that the platform was more powerful than what we had at the user level," he shared. " I saw the demo for XERA and thought the multi-media orientation was interesting. Also, unlike some other tools, iCONECT offers training toward getting certified rather than the certification test alone. That's helpful."
Good luck to you four. We'll hear their impressions of the courses and the exams once they are certified.
iCONECT offers free online user training courses along with the instructor-led certification courses.
For more information

Lynn Frances Jae is Marketing Director at iCONECT