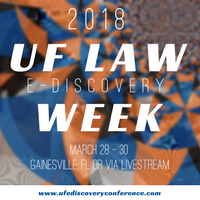 The University of Florida is offering a live streaming option for its 6th Annual e-Discovery Conference, titled e-Discovery - The Critical Steps.
If you need CLE credits or just want to keep abreast of best practices in our industry, but don't have the time or budget to travel, this is a perfect opportunity to gain eDiscovery training and education.
iCONECT's CEO, Ian Campbell, will participate in the session called Tales from the eDiscovery Trenches at 1pm EST, March 29th. He will talk about what the iCONECT team went through to make searchable versions of the JFK assassination files available to the public. Ian will also point out some of the more interesting facts that users uncovered while investigating the data.
The conference will offer several other informative panels:
eDiscovery Security and Data Protection.
Getting Critical Information from the Tough Locations - Cloud, IOT, Social Media and Smartphones!
Checking Your Case Story Against Your Case Data: Is Your Client's Story Accurate and Defensible?
Don't Get Tarred and Feathered: Dealing with TAR, Keywords, and AI.
Human Eyes-On Data Review: We Can't Escape It.
Sanctions, Sanctions, Sanction: Getting and Escaping.
Judicial Panel
The conference is the main event in what has become e-Discovery Week at the University of Florida Levin College of Law.
For more information about the conference, visit the website.
To register, click here.

Lynn Frances Jae is Marketing Director at iCONECT