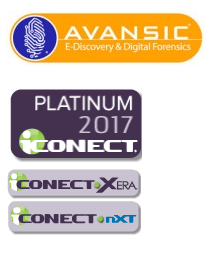 Avansic: E-Discovery and Digital Forensics has been awarded the iCONECT-XERA Platinum Partner Award for 2017. 2017 makes the fourth consecutive year that Avansic has been recognizes for its commitment to excellence in litigation support hosting and services.
The iCONECT-XERA awards were first presented in 2014, and Avansic has earned the Platinum level award each year since. The partner awards acknowledge Avansic's delivery of exemplary user and technical support to its eDiscovery clients. Contribution to customer service, product vision and joint marketing of the iCONECT-XERA litigation support software are a few of the award criteria. iCONECT also considered the partner's engagement with clients to expand eDiscovery knowledge. Additionally partners must meet requirements for product knowledge, administrator certifications, size of installation and duration of the partnership. Platinum level awards are granted to companies, like Avansic, that have made additional investments in customer engagement, staff, and infrastructure.
"Our relationship with Avansic continues to grow and we are thrilled to again honor them as an iCONECT-XERA Platinum Partner," says Ian Campbell, CEO and Founder of iCONECT. "We encourage our partners to integrate their own applications into the iCONECT-XERA platform, and Avansic has done that. Gavin's team has developed custom software to fit the needs of their clients. These value-adds make Avansic a valuable partner, and we at iCONECT are committed to deepening our partnership even more."
For information on the Avansic: E-Discovery & Digital Forensics/iCONECT partnership, visit the partner page.
For more information about iCONECT-XERA, please visit our product page or download the data sheet.