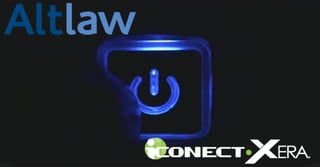 It's just as you would hope a software implementation would go. You train your people, set up the new software, turn it on, and start your first project. That's exactly what happened with Altlaw, our new eDiscovery services partner in the UK.
On day one, Altlaw gave a demo of their new eDiscovery software to a boutique litigation firm out of London. "The attorneys had struggled with the status quo software for too long. They were ready for a change. The intuitive user interface of iCONECT-XERA was exactly what they were looking for," said Matt Altass, founder of Altlaw UK. He shared that a week later, his team is inundated with demo requests.
Our CEO, Ian Campbell said, "We've been hearing that there is a demand for change in the UK. If Altlaw's experience is indicative of the climate, we expect their use to grow quickly and steadily."
Many of our blog readers are already iCONECT-XERA users. For those who aren't, what are you waiting for? Have a look. Schedule a Demo Now.

Lynn Frances Jae is Marketing Director at iCONECT