iCONECT has partnered with Innov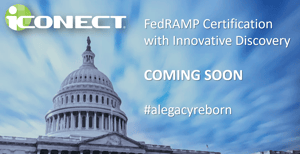 ative Discovery to offer the iCONECT-XERA eDiscovery and data management platform in a FedRAMP authorized environment by Q3 2019.
To remain true to its moniker, Innovative Discovery, a trusted provider of data discovery services for Federal agencies, will be adding iCONECT-XERA to its technology suite. Of the decision, Allen Outlaw, CEO of Innovative Discovery, said, "As the federal space continues to look for innovative products in a secured environment, we're looking over the horizon and see the iCONECT offering in a FedRAMP cloud as a key component to continued market growth."
The companies are working together under the supervision of the FedRAMP Program criteria. The certification process includes extensive scrutiny of security process-implementation and rigorous auditing of the iCONECT-XERA platform and processes by outside consultants. FedRAMP status will allow Federal government agencies to leverage the power of the iCONECT-XERA document and multi-media review technology for all their data discovery and management needs.
Learn more about this upcoming offering here.

Lynn Frances Jae is Marketing Director at iCONECT