Tired of Using the Same Platform for eDiscovery Review?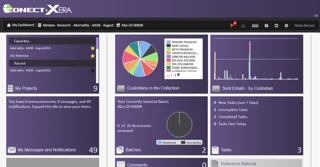 If familiarity was the best criteria for choosing a review platform, we would all still be using Summation or Concordance. Capabilities should take precedent – especially when there are alternatives that are more user-friendly and efficient.
More and more service providers, law firms and corporations are looking for an eDiscovery review software alternative to the status quo.
Discover why Ricoh USA, Haynes and Boone, and other service providers, law firms and legal departments rely on the user-friendly, intuitive, innovative iCONECT XERA eDiscovery review software.
Join Ricoh USA's Solution Architect, Haynes and Boone's Manager of Automated Legal Solutions, and iCONECT's Vice President of Product Strategy in this ACEDS webinar. Learn first-hand from experienced users how this intuitive platform helps keep all aspects of the project in one easy-to-use tool.

The presenters will look at several key elements of iCONECT XERA, offered by RICOH eDiscovery:
Data & work product tracking and visualization
Internal collaboration tools
Modern HTML5 multi-platform user interface
Multi-file type native viewer, including CAD and multimedia files
Analytics and investigation tools
... and much more
The webinar will be presented this Wednesday, October 25th at 1:00 pm ET.
Don't miss an opportunity to learn about the alternative to the status quo.