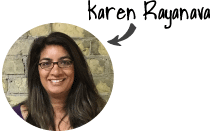 The one thing you need to know about Karen is that she likes to jump into new projects head-on, whether it's a eDiscovery hiccup that you need help with, or a science experiment that her two girls have begged her to start.
As a result - Karen is quickly learning the lingo and technical details of eDiscovery support at iCONECT. Like our now-expert trainer Briana, Karen comes to us from a different work background – from the financial industry where she "had gained experience and been a leading performer who trained others." The new job is "exciting and unfamiliar", and Karen has really enjoyed the flexible learning process and all the other excellent teammates who "train me daily" and support her just like they support you!
When she's not at work, Karen loves to garden, tackle DIY projects, and work on those science experiments that leave her house looking like the mad scientist struck again.
Join us in welcoming Karen to the iCONECT Technical Support team. And, when you call in, ask her about her latest project!