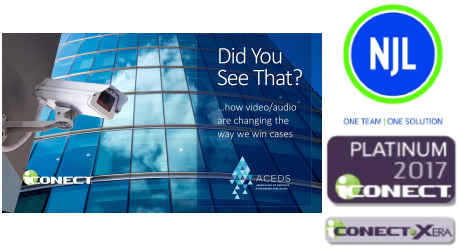 Robert DeBord, Director of Hosting Solutions for iCONECT XERA Platinum Partner, New Jersey Legal, joined Chris Dale of the eDisclosure Information Project, and our CEO, Ian Campbell, to discuss multi-media review in eDiscovery, in this ACEDS webinar.
Did You See That?...how video and audio are changing the way we win cases.
The webinar covered key considerations when dealing with multi-media data in eDiscovery:
The prevalence of devices generating these data types
Risks associated with not including multi-media content in your data set
Case studies describing how NJL dealt with these data on two projects
What metadata from non-text sources can tell you
How to review these files
Issues related to personal information and privacy
Best practices for producing these data types
When we look at the data sets of today and the future, we realize how relevant this issue is. In fact, more than 75% of those in attendance shared that they had encountered these data types in at least one of their matters.
New Jersey Legal's Award
This is the second year that New Jersey Legal has been named an iCONECT XERA Platinum Partner. "It was a pleasure to present this webinar with a partner who has such deep knowledge of our platform. They have pioneered the use of mult-media review capabilities in the iCONECT XERA eDiscovery software," said Ian, the iCONECT CEO.
The Platinum partner award New Jersey Legal received recognizes the company's contribution to product vision and joint marketing which highlights the key award factor – NJL's delivery of exemplary user experience and customer support. Additionally, New Jersey Legal met requirements for administrator certifications, product knowledge, size of installation and duration of the partnership.
Find out more about the NJL /iCONECT partnership here.
View the educational webinar here.