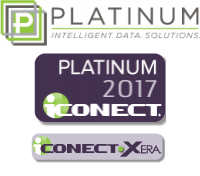 This award recognizes Platinum IDS's commitment to excellence in litigation support hosting and services.
Platinum IDS has received the iCONECT Platinum Partner Award since its inception in 2014. With the 2017 award, iCONECT is acknowledging that the professional staff at Platinum IDS continue to provide an outstanding eDiscovery experience for its clients. Partners were evaluated by reviewing their contribution to product vision, customer service, joint marketing of the iCONECT-XERA eDiscovery software and engagement with clients to expand eDiscovery knowledge. Platinum IDS also met requirements for product knowledge, administrator certifications, size of installation and duration as a hosting partner. Platinum level awards, such as that presented to Platinum IDS, are granted to companies that have made additional investments in staff, infrastructure and customer engagement.
"For four years now, we have been honored to have Platinum IDS as an iCONECT Platinum Partner," says Ian Campbell, CEO and Founder of iCONECT. "They have been busy migrating projects into iCONECT-XERA from other eDiscovery platforms, and have created lots of training and onboarding videos to ease the transition for their clients. Platinum continues to demonstrate their commitment to provide the highest level of technology and service to clients. iCONECT is committed to expanding our partnership with Platinum IDS and its staff in 2017 and beyond."
For information on the Platinum IDS/iCONECT partnership, visit the partner page.
For more information about iCONECT-XERA, please visit www.iCONECT.com/xera