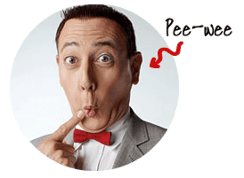 I am a foster parent, and I have a 4- and 5-year-old living with me right now. They are siblings, who are smart and kind, and they are learning a ton in kindergarten. My least favorite phrase from them was "I know that", but now it is "Tell me something I didn't know", which I am sure they picked up from another kid at school, and not Pee-wee Herman on Netflix.
The funny thing is I know I used both of these phrases on my parents when I was growing up… but the second one - "Tell me something I didn't know" - got me thinking about XERA. There are likely features you (and really, I) could use a refresher on, and there may even be some features that you didn't know were in XERA. So hopefully over the next few posts I am going to "tell you something you didn't know".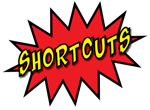 In this post the
secret word
is "Shortcuts". Be sure to yell it out loud every time you read it!
Admin Shortcuts
We have added a bunch of shortcuts. A project can be starred as a favorite so it appears at the top of the My Projects tile for easy access.
Admins have a wrench next to projects that lets them jump right into Administration for that project without needing to open the project.

We added even more Admin shortcuts to the admin cog. These shortcuts allow an admin to jump into the area they need quickly. Panels, for instance, opens the Panels tile in Administration with one click.
Dashboard Shortcuts with Tiles
We have added new functionality and reused some old stuff to reduce the clicks to get to your work. Users can create 2 different tile types and add objects to shortcut to their work. Admins can also add the Quick Search Tile to allow searches right from the Dashboard.
Saved Searches Tile
This is a tile a user can create themselves; they can add up to 8 saved searches per tile. A user can click a button on the tile to run the search from the Dashboard to move to Table View with one click.
Folder Panels Tile
Now that users can create their own panels in Table View, a user can use a panel and its folders as shortcuts to their work in progress: with one click from the Dashboard, they have opened the folder in Table View.
Quick Search
This tile is great for – "Can you just check to see if there are any documents with the phrase 'That's my name don't wear it out' or 'Conky's Secret Word'?". Simply type or copy/paste the search into the Quick Search box and click Go.
Shortcuts are wonderful whenever they reduce work without impacting quality. I don't have "Globey" or "Jambi" to help me figure stuff out or grant my every wish like Pee-wee Herman, but we at iCONECT strive to find ways to help you tell your winning story. Shortcuts help make it simple and quick to get to your work in XERA.

Our moderator extraordinaire, Olivia Cain, has worked at iCONECT for 10+years. As the technical trainer and an XERA expert, she loves a challenge and finding ways to make document review easier for users. She believes something new is learned every day, and is always up for all things eDiscovery, a cold beer and a good laugh. ​ If there are any review problems that leave you confounded, get in touch with her at iconectxpertsblog@iconect.com, and look for some ideas in our next blog posts!