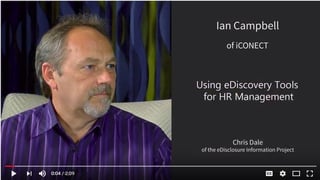 In January, I wrote about using the eDiscovery Platform to create a public records repository. Our clients are using it within the HR department to take control of their investigative processes. iCONECT-XERA is used both proactively and reactively for internal investigations. Here's how...
FCPA Investigations
A large international resort and gaming developer and operator is - as you might imagine - subject to loads of regulations and scrutiny. They have opted to handle all inquiries internally. When questions arise, their legal team pulls data from the custodians involved into the iCONECT-XERA system and from there, use the analytics and review capabilities to prove or disprove theories. They have standardized their processes to get the information they need quickly and to expedite reporting to regulatory agencies.
Proactive Communications Monitoring
Our client, a financial services and insurance company with 22,000 employees, had received complaints about inappropriate communications among employees. Their solution, monitor communications pro-actively. When the lead compliance agent saw the thumbnails view in iCONECT-XERA, he was sold. Thumbnail views makes it easy for him to scan through emails to find inappropriate images without opening each message in the viewer. This was a game changer for their monitoring.
A New Income Stream for Mid-Sized Law Firms
While larger corporations have the resources to perform their own investigations, that is often not the case for mid-sized and smaller companies. Mid-Sized law firms that have iCONECT-XERA licenses can expand their corporate offerings beyond litigation into the realm of pro-active and reactive investigations. Our integrated processing engine with its drag-and-drop-to-add-data capabilities makes it possible for anyone on the legal team to begin an investigation in minutes.
See it in action.
Chris Dale interviewed Ian Campbell about using iCONECT-XERA in HR departments

Lynn Frances Jae is Marketing Director at iCONECT