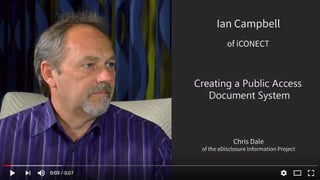 Not all corporations and government agencies that use the iCONECT-XERA platform use it for litigation. It's also a great tool for providing public access to documents either on location or on-line. Have you thought about using it to share information with your clients?
Mid-sized firms need ways to expand the use of all technology investments and also need ways to increase their stickiness with clients. How about sharing industry-specific information with clients?
Some larger firms have KM tools to do this, but for mid-sized firms, with limited budgets, that just isn't a possibility. With iCONECT-XERA and its integrated processing engine, firms don't need a separate tool. Attorneys from any practice area can create customized repositories of industry-related legal information and share that content with specific individuals or groups of employees within a client company.
When you provide answers proactively, clients are more likely to return.
Have a look at Chris Dale interviewing Ian Campbell about using iCONECT-XERA for public access.

Going to LegalTech NY? Schedule a demo in our booth, #1402.

Lynn Frances Jae is Marketing Director at iCONECT