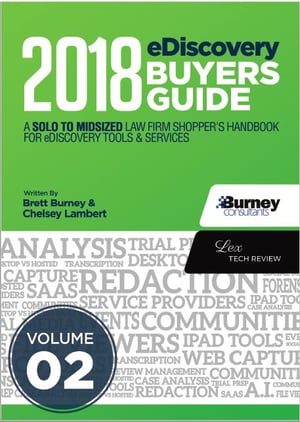 Volume 2 of the 2018 eDiscovery BUYERS GUIDE by LexTech and Burney Consultants was recently released. It has several positive insights about the iCONECT-XERA eDiscovery review software. I'll share a few in this and the next blog post.
About Thumbnails it says,
"This is an extremely useful option for quickly eyeballing
important documents and the drag and drop feature
makes it easy to organize them on the fly."
The review covered several aspects of our software's searching capabilities. Here are comments about two features.
"The Empty Field search quickly finds documents that are
missing fields of important information, which is great for
performing quality checks on data. Dictionary Lookup is a
fantastic tool for examining the different spellings and
misspellings of words so you can be confident you're
searching for all the right terms."
The reviewer was particularly impressed by Document Compare.
"Document Compare is an exceptional feature in
iCONECT-XERA. As the name implies, you can view
two documents side-by-side to investigate the
differences in both the text AND their metadata."
Every time someone sees iCONECT-XERA for the first time or after a long gap, we get similar responses. Users and administrators find that our review tool cuts time from many tasks. When you combine those small time -savings, you get real cost savings.
There are more valuable comments in the review. To respect your time, I'll save them for the next blog post.
You can download the review HERE.
To see these and other workflow optimizing features

Lynn Frances Jae is Marketing Director at iCONECT