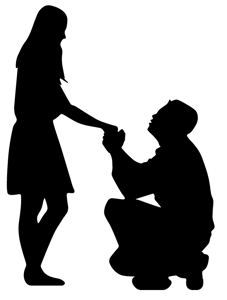 While the big law firms have thrived in the past few years, mid-sized firms have shrunk. One of the places they can't seem to compete is in providing eDiscovery services. Litigation Support departments as a profit center, or at least as a value-add to clients, have been out of reach for most mid-sized firms. They don't have the IT personnel, infrastructure, eDiscovery expertise or scale to go up against the big boys. But that shouldn't stop them.
Service providers have been developing alternative delivery options for eDiscovery to help mid-sized firms compete for this business. One looks like marriage, the other is more like dating.
Managed Services
Most of you have heard about
eDiscovery
Managed Services. It's a subscription based model in which a law firm contracts with a legal service provider (LSP) to support all litigation support activities for the firm during the contract period (often multiple years). The LSP provides the IT infrastructure and personnel along with matter-related services per the firm's needs. Often the firm's personnel shadow the LSP personnel to learn how to handle client data, develop workflows and manage projects, until they become proficient. Then, the law firm's personnel take over those lit support tasks and the firm has new income generating activities. This is the marriage model.
Managed Services is a viable option for a mid-sized firm
if
it has sufficient litigation load to qualify for volume discounts from an LSP and
if
the firm is ready to add lit support personnel to its payroll.
Collaborative Services
There is a dating option as well. This is the Collaborative Services model. The Collaborative Services model differs from Managed Services in that it requires less of a long-term commitment and is somewhat more transactional. In this model, an IT or cloud services company provides the Infrastructure as a Services (IaaS), an independent eDiscovery Consultant provides the data-related services, and the law firm handles the legal aspects of the matter. This three-way collaboration gives the firm more flexibility when it comes to staffing. It can choose a highly experienced eDiscovery expert to handle the client data, develop workflows and manage the project on a case-by-case basis. The firm gains control and expertise without committing to additional head count.
iCONECT has several partners that provide these services.